Portable Trade Show Booth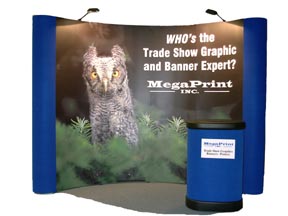 Looking for an attractive, affordable, portable trade show booth?

Look no further!
This great trade show booth has four graphic panels that install on a pop-up frame for portability. Carpet end panels complete the look. Everything goes into a tough plastic shipping case that doubles as your literature counter at the show.
Send us your design as a full size graphic, we'll split it into the panels here.
Footprint of the complete booth is 88" high, 118" wide, and 37" deep. The graphic dimension is 106" wide by 87-9/16 tall (each panel is 26.5" wide).
See a YouTube video of a Booth Being Set Up
Pop-Up Trade Show Booth: $2050
Includes the booth, two carpet end caps, four crystal laminated graphic panels, two 200 W floodlights, and the portable display carrying case. Shipping costs are not included, and there will usually be one charge for the booth and one for the graphics, since they will come from different places.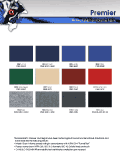 click to open
Add on:
Kit to convert the carrying case to a small table $172
Includes a 29-5/8 x 75" crystal laminated graphic wrap and a sintra top.
Logo no wider than 22" in center of graphic wrap.
Graphic end caps instead of carpet, $395. Your graphic dimension becomes 153" wide by 87-9/16 tall, the end caps are each 23-1/2" wide.
Booth Colors:
End caps come in blue, green, black, gray, burgundy and red. The fabric is a carpet-like material, and graphics can be attached to it with VELCRO® Brand hook fasteners.
Click the swatch book to view a PDF of color options for your trade show booth end caps.

The booths ship by UPS out of Chicago with a week of lead time. We will drop ship the booth whenever possible, and ship the graphics separately from New Hampshire. Weight of the entire booth is 80 lbs.
The display panels will have plastic stiffeners top and bottom, and magnet along the side. The container has wheels that allow you to roll everything into the show. It assembles in your space in a few minutes. This is the best portable trade show booth solution available today!
Prices effective Jan 1, 2017 and subject to change without notice.