Photo Enlargements
Dress Up Your Space with Enlarged Digital Photos!

• Top quality • Fast turnaround
• Vibrant, accurate colors
• Print on matte or photo gloss paper, or canvas
• Dry mounting and laminating available
• UV stable inks available

We can do photo enlargements affordably and quickly.
We print large size photos from a digital photo or we can scan the actual photograph.
Digital photos of two megapixels (1200 x 1600 pixels) and larger can go up to poster size. For really large photos, it helps to have 3000 x 4000 pixel files (12 megapixels).

We also do a lot of wall size photos as wall murals.

Talk to us about your project! We have a number of materials to choose from that will give you a great looking large photo.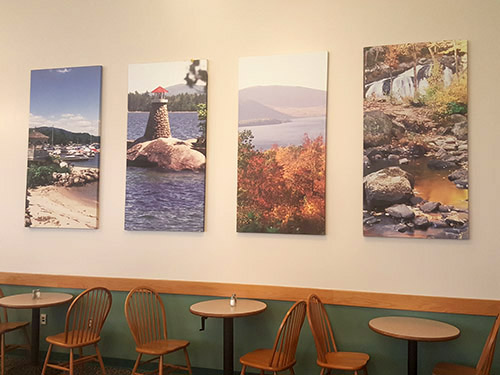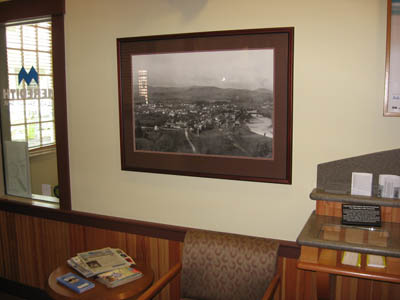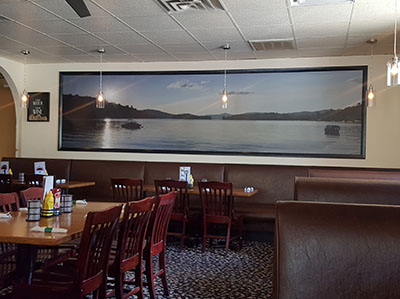 Historic photos and postcards are stunning in poster size!
Retailers love the interest that historic pictures can generate. Companies love photo enlargements of old pictures of their equipment or factory to put in the lobby or hallways. And of course enlargements of old photos are great for wedding anniversaries and memorial services.
How to order:
• Click the orange Order Button on this page
• Order matte or glossy paper as you prefer
• For dry mounting, choose 50 point board if you are framing
• We can also mount to 3/16" and 1/2" Gator Board
For large photo enlargement projects, give us a call!

---
A word about digital photographs-
• At least 2 megapixels
• Need to be sharp
• Professionally taken photos are great
• Good, sharp iPhone and Droid photos usually work fine
Most of what we see these days are digital photos. A typical 2 megapixel digital picture (1200x1600 pixels and about half a megabyte of jpg file size) can be printed up to 18x27". Higher megapixel digital pictures can go quite a bit larger in size, the rule of thumb is we like to see them at least 72 dpi in the actual size. We can often rez the files up to have more pixels.
To have an image that's 24x36 and 72 dpi, we need 1728x2592 pixels. If it's 1600x2400, you won't notice a difference, but if it's 200x300, it will be pixelated! Pictures of insufficient density are the biggest problem we face. We will give you a call if we don't think your photo will look good at the enlarged size you want.
If you have a hardcopy photo, we recommend that you let us scan your photo for enlargement.
If you do it yourself, remember that scanned photos should be 72-100 dpi in their final size. This is about 250 kb of jpg file per square foot of final poster size. If, for example, you are scanning a 4"x6" photo that will be 24"x36" on your poster, scan at 432 to 600 dpi. Always use a delivery service that can track your photo if you are sending it to us. Please, do not mail them.
Scanning Table for 100dpi Output
Size on poster
Original Size
6" x 9"
16" x 24"
24" x 36"
2" x 3"
scan at 300 dpi
scan at 800 dpi
scan at 1200 dpi
4" x 6"
scan at 150dpi
scan at 400 dpi
scan at 600 dpi
Scanning Table for 72dpi Output
Size on poster
Original Size
6" x 9"
16" x 24"
24" x 36"
2" x 3"
scan at 216 dpi
scan at 576 dpi
scan at 864 dpi
4" x 6"
scan at 108 dpi
scan at 288 dpi
scan at 432 dpi