Trial Exhibits
Fast service on your Trial Presentation needs!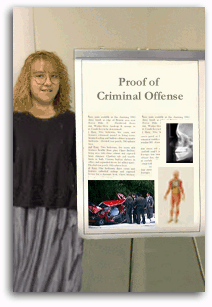 • Photos
• Maps
• Timelines
• Calculations
We generally make demonstrative evidence exhibits by mounting paper prints onto foamcore board, allowing you to stand them on an easel.
A lot of what we do is photo enlargements. This allows the attorney to show the picture to the witness, and have the jury see it at the same time. We print on a matte paper so you won't have the glare trouble you can have with glossy pictures.
We also print a lot of digital files such as calculations of damages, charts and graphs, timelines, and maps. Our graphic design department can help you set them up if you prefer we do the design, or you can have a local designer (or your paralegal) email us your trial presentation files. We can print trial exhibits from just about any program, and we are experts with PowerPoint, which most people have.
Our fast turnaround allows you to wait until the last possible moment before committing to the expense of trial exhibits! Our promise is to be able to ship tomorrow the files that come in today, and we can usually ship today what comes in before noon. Let us know your needs!