Green Solutions in Large Format Printing
What we're doing to be green:
It's important to everyone, especially those of us who live in such a beautiful part of the country! We're committed to recycling, reducing, conserving, and re-using wherever possible.
Construction Complete on our Solar Installation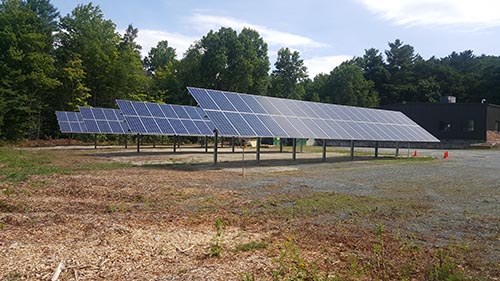 We broke ground in July 2016 for a 48KW Photovoltaic array that will generate about 2/3 of our power needs. We are excited to reduce our carbon footprint and to be using renewable energy for much of our poster printing needs. In the first 14 months of use, we saved over 31 tons of carbon from being put into the atmosphere.
We put the array in a field at the end of our building instead of on the roof, for a number of reasons:
• We didn't need to do a structural analysis to see if the building would support it
• It works better for shedding snow, a big consideration in NH!
• The roof will be much easier to replace, and is 18 years old in places
• Cost was about the same and we had the land
So far, the power savings are coming in about where they were predicted by our solar array consultant. We expect the system to pay for itself in about 3 years.
Our Sustainability Program:
For printing of paper posters, we use water based inks that are soy based and come in a sealed cartridge. When empty, we recycle them by sending them to a company that refills them.
Our vinyl banners are printed with latex chemistry that is environmentally benign. We recycle those ink cartridges too.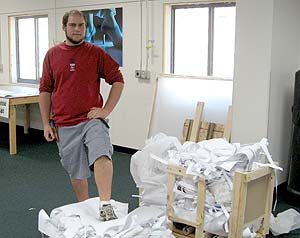 Our paper scrap is segregated and baled and taken to the local recycling facility. Alex built a baler to make this work for us. Not only does this keep the paper out of the landfill, but we haven't had to increase the size of our dumpster.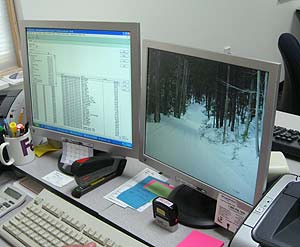 We've replaced all of our computer monitors with flat screen units that use much less electricity. All of the new computers we buy are Energy Star rated.
Our fluorescent fixtures have been upgraded to 3 bulb fixtures that use 30% less electricity than the fixtures we had before.
---
As a graphics company, we use pretty robust workstation grade computers. When they are too slow for us they still have a lot of life in them, and we donate them to several non-profits in the area.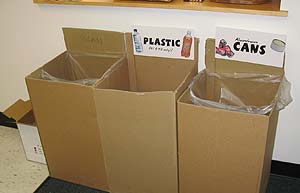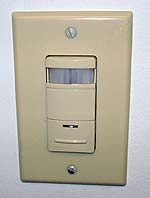 We recycle our bottles and cans, and while the local transfer facility will only take 1 & 2's, we found a place that takes all the the others too. We put motion sensors on the lights in the bathrooms and lunch room, so that they turn off automatically when nobody is there.
We re-use the boxes our paper comes in to ship your order. Cores from the paper rolls are used to roll banners on for shipping. Scrap cardboard goes into a separate dumpster for recycling.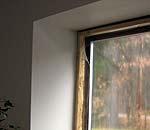 As winter approaches, we put inserts in our windows to improve their insulating ability. These are wood frames with clear plastic that add a dead air space in front of the window. It makes the place more comfortable, too!
We boxed in and insulated our old freight door, which we no longer use. We've added weather stripping to all outside doors to better seal them, and put insulating panels on all the metal doors to lower heat loss.
We buy paper and laminate by the palette, but we don't ship very much on palettes. We've invited several of our neighboring companies to help themselves to our stack of palettes out back, and they do!