Machine Bolt Templates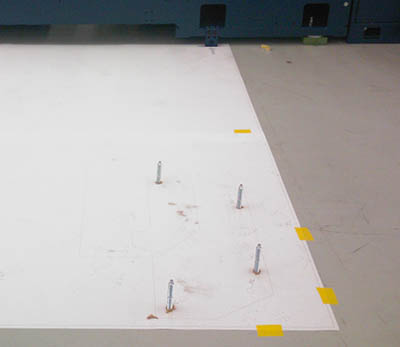 Locate Machine Bolt Holes with Mylar Templates
Mylar is a rugged and dimensionally stable material for making bolt pattern templates. Tape them to the factory floor, drill pilot holes, and then your final bolt holes. Everything will be where it should be.
We print with exceptionally high accuracy, and we can usually ship your template in a few days. For very large bolt templates, two or more pieces of mylar can be taped together on site using alignment marks that we put in the prints.
Send us Autocad .dxf or .dwg file, or pdf files at full size (1:1). Files need to be a single page. Note that the largest size you can make a pdf is 200x200 inches.
Pricing
Setup: We charge a one time $25 setup fee for single strip arrangements (up to 54" in the short dimension) and $50 for multi-strip bolt templates.
Per sqare foot pricing:
<100 square feet $6.00 per square foot
100-249 square feet $5.50
250 square feet and up $5.00
Minimum order $100. For large requirements, please call.
This pricing is for line drawings of <10% ink coverage.
We stock a 36" width 5 mil thickness double matte mylar, and a 54" width mylar that is 4 mil thickness. The mylar is a "frosty" clear material that allows you to see markings on the floor or the mylar layer below. The inks are not water fast.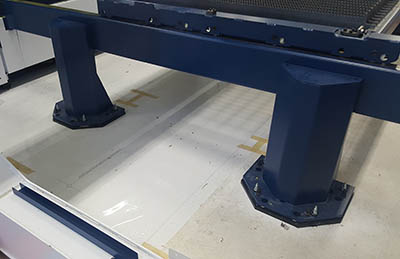 Prices effective Jan 1, 2018 and subject to change without notice.