Custom Printed Products from your App
• Your customer has the photo
• Your app creates the demand
• We print and ship in a day

Modern digital printing gives app developers the capability of offering custom printed products to their customers. We have the technical and manufacturing expertise to print and ship large numbers of one-off orders on very short lead times. Our business focuses on larger products, although we have batch printed items as small as 8" square.
As an example, an app allows the customer to put their personalized message on a door mat. The app generates jpg files of the mats, and a csv file of each day's orders. We print the door mats on the material specified, create the shipping documents, package and ship the mats, and send the OEM a bill at the end of the week.
We understand the data exchange and file management systems required to produce and ship custom products in volume. We will work with you to develop a work flow that gets the job done smoothly.
Our equipment can print on just about any substrate up to 1.5" thick. We've printed on plexiglass, ceiling tiles, wood, tyvek, wallpaper, yoga mats, and acoustic panels as well as the common sign making materials. We print using UV cured inks that are brilliant and durable.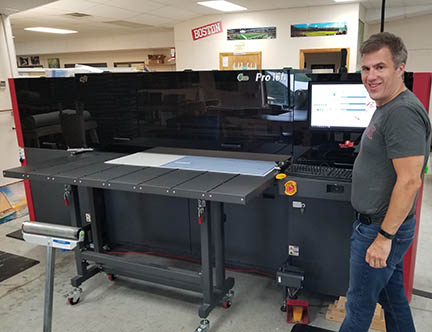 We can produce custom printing from your app from all the common file formats. Generally we receive a jpg or tif of artwork and a csv or Excel file of shipping information. We have a full onboarding package that will help you get started.
To explore the possibility of partnering with us to bring your product to market, call us on 603-536-2900.