Flip Charts & Education Poster Printing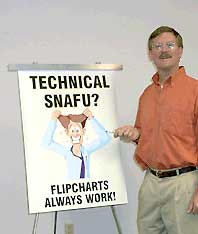 Mix it up in your training!
Our flipcharts and training posters allow you to do a session with all the color and excitement of a computer presentation, without turning off the lights. You can also write on these educational posters with dry or wet erase markers, and many trainers tell us they love the ability to interact with them. Our training flipcharts also allow you to do less writing, a big advantage if you have less than perfect handwriting!
PowerPoint is the usual program we see in the training field, although we support all of the common software. We have special discounts for multi page PowerPoint flipcharts, 24x36" gloss laminated:
5-9 pages- $40 per page
10-24 pages- $34 per page
over 25 pages- $28 per page
Price includes an extra 2" of laminate at the top with holes for a standard flipchart holder, as in the picture above.
We also see a lot of training posters that are permanent displays in training areas, for instance, diagrams of standard products or formulas for commonly used equations.
Prices effective Jan 1, 2014 and subject to change without notice.
CALL TO ORDER