Replacement Trade Show Booth Graphic Panels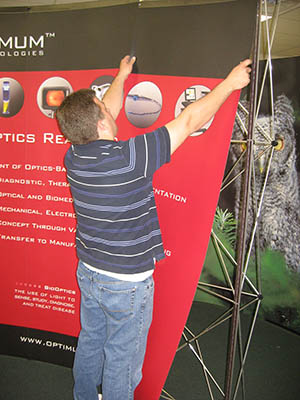 Replacement Panels for less
Fast turnaround too!
Pop-up booth graphics can be replaced for less than your booth maker charges. Let us show you how to save on replacement graphics!
Most pop-up booth panels are about 30" wide and 90" tall. There are plastic stiffeners on the top and bottom edges of the graphics, and magnet strip along the sides. It is best if you send us one of your trade show booth panels so we are sure to get all the dimensions right, and we really prefer to have your booth to make sure everything fits properly.
Replacement pop up panels are printed on paper which is then laminated with our premium crystal laminate. The total thickness of the panels is 23 mils, which gives you a panel similar to the original.
Pricing:

$259 per panel
Graphic end caps $295 for a pair
For booth replacement panels up to 34" width and 92" height, including the magnet on each side, and the stiffeners top and bottom. Graphic end caps are maximum 17x92" each. For end caps over 17" and up to 23", they are $395 a pair.
We can produce your pop up replacement panels from all the common graphic design programs, or our designers can set things up for you for a nominal charge. Send us your files and we'll create a stunning Popup Trade Show Booth for you, as we have done for hundreds of others!

Call if we can answer any questions 800-590-7850
To order:
Set up a single graphic for all the panels
Give us a call to get things going.
We will need to know the size and number of panels you need, and we find it best to have you send us your booth. This way we can install the panels on your booth to be sure everything fits right.

Prices effective Jan 1, 2017 and subject to change without notice.
---
Here are some examples of Popup Booth Panels we have made: