Backdrop Banners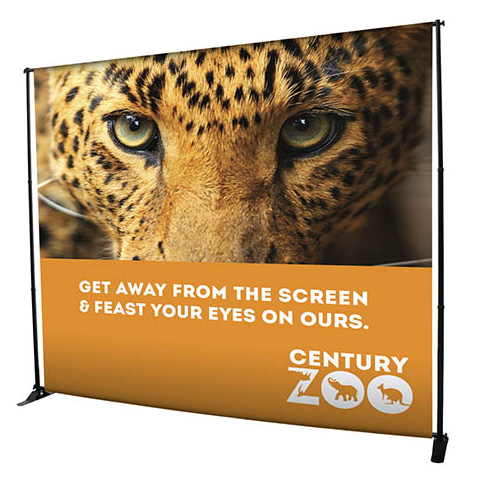 Also known as: Step and Repeat Banners
The highest quality backdrop banners, printed on a matte finish vinyl so there is no trouble with glare in trade show lighting. Give your booth or red carpet photos a background that is not only attractive and attention-grabbing, but aligns with the identity of your business.
Description:
Fade-resistant and water-resistant
Printed high-resolution at 720dpi
Full color and vibrant UV Inks
---
Common Sizes:
96" x 96" (8' x 8')
108" x 96" (9' x 8')
120" x 96" (10' x 8')
104" x 90" (8.667' x 7.5')
Maximum Size:
120" x 96" (10' x 8') *
* Any banner larger than 104" x 90" will be subject to FedEx oversize fees or may need to ship via freight.
---
Pricing:
| | |
| --- | --- |
| Less than 100 sq ft | $5.40/sq ft |
| 100-249 | $4.90 |
| 250 and over | $4.35 |
---
---
Accessorize: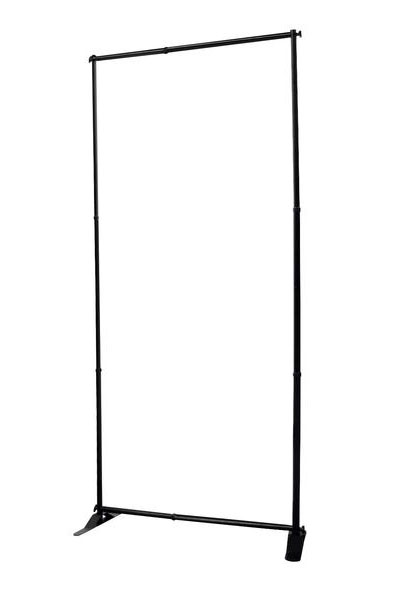 Telescope Free-Standing Banner Frame
Description:
Both height and width are adjustable
Printed high-resolution at 720dpi
Full color and vibrant UV Inks
---
Pricing:
Banner Frame Only: $239
104"W x 90"H Banner with Frame: $589
Recommended Size:
104"W x 90"H *
* The size of the vinyl banner in the frame
---
Minimum Frame Size:
60"W x 42"H (5' x 3.5')
Maximum Frame Size:
120"W x 96"H (10' x 8')
Or call us at (800) 590-7850
Our online order form is not yet set up to order the Telescoping Free-Standing Banner Frame at this time
---
Backdrop Banner Gallery
Click thumbail to view the image larger