Job Site Signs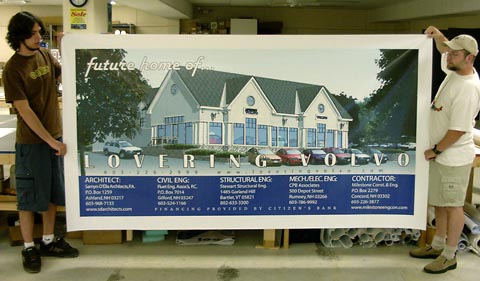 We make it easy to create and display great looking job site signs! We print a full color vinyl banner that is ready for you to tie-wrap to a fence or wrap around a sheet of plywood. Our 2 day turnaround gets it to you fast. Best of all, you get a great looking jobsite sign at a reasonable cost.
Product Features:
3 year life in sunlight
Vibrant, accurate colors
Nylon re-enforced material is strong and tear resistant
Can be hemmed and/or grommeted
Fasteners can pierce the material
How We Make Job Site Signs Easy-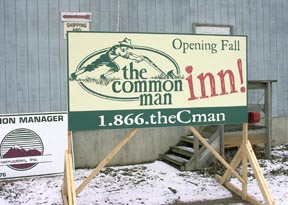 You can send us a file ready to print, or we can do the design work for you. We support all of the common graphic design software.
If we are doing the layout for you, the cost is $100 per hour. Send us the logo and picture files you would like used, usually they can be emailed.
Architects renderings can be incorporated into your artwork, usually the architect will have it as a pdf or jpg file that we can use.
We will email you a jpg proof of our design, and when you approve it, we will have your banner printed in a day. We can ship back to you as fast as you need it.
Once you receive the banner, tie-wrap it to a fence or wrap it on a sheet of plywood. If you are wrapping plywood, we furnish it with an extra 4" of vinyl all around for stapling. Construction adhesive can be used to adhere it to the plywood.
Need something larger? We have done signs as large as 8x16', output as four separate pieces to be mounted on four sheets of plywood. We can print banners 8 feet wide by 30 feet long, although things of this size need to be where the wind cannot get behind them.
Pricing:
48x48" vinyl banner $86
48x96" vinyl banner $173
Design time $100/hour
To order:
Go to vinyl banner ordering. Order hem and grommet if you plan to attach to a chain link fence. For plywood wrapping choose no hemming and ask for the banner to have 4" of unprinted edge using the special instructions.
Prices effective Jan 1, 2017 and subject to change without notice.